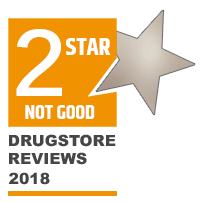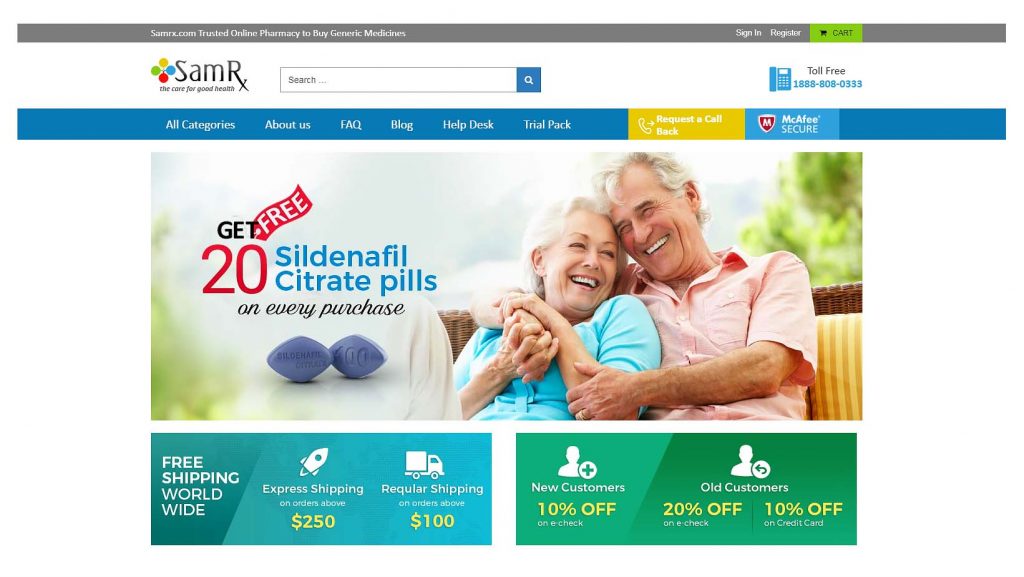 Samrx.com markets itself as a trusted online pharmacy. It is sad that some people buy from this pharmacy just because it labels itself as trusted yet they don't meet the basic international guidelines for online drugstores as uncovered by our investigations. Read the review below to understand why samrx shouldn't be trusted.
Website Information
According to whois.com, samrx.com was registered in 2010. The registrar is GuangDong NaiSiNiKe IT Company, a company known to operate countless domains. Some registrant information is hidden although the location appears to be Hong Kong. Phone and fax; +86.7563366365. Email is hidden: privacy@iisp.com. Although some information is present, attempts to hide important domain information makes us suspicious about the legitimacy of the people behind the website.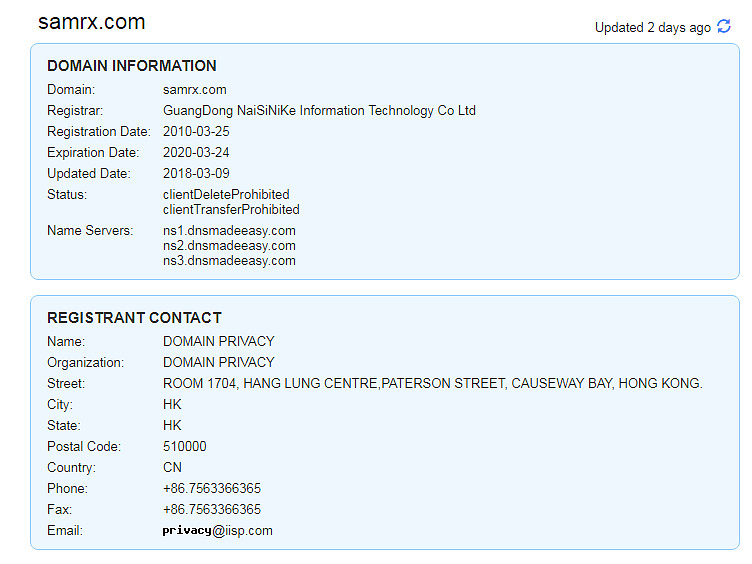 Related Websites
The company that manages samrx domain – GuangDong NaiSiNiKe IT Company is associated with thousands of domains. The company is registered in China and associated with both legal and illegal sites. According to https://www.dottld.net, the company manages 38,000+ domains currently.

A quick search of its toll-free phone no. reveals that the site is associated with many "suspect" sites including online pharmacies selling a variety of drugs without prescriptions.
Business Profile
The identity of the person/s or company behind this drugstore remains unknown. Our investigations reveal a deliberate attempt to hide the real owners. The only company name associated with the drugstore is GuangDong NaiSiNiKe, an IT company associated with many other domains in Asia.
Regulatory Approval
According to the homepage, the drugstore claims to be a reputable organization which uses ingredients approved by WHO and FDA. The drugstore doesn't state categorically whether all the notable regulators have approved its activities as an online pharmacy.
For any online drugstore to be legit, the drugstore must be approved by notable online drugstore regulators such as LegitScript, Pharmacy Checker, NABP, and CIPA. Samrx doesn't have any regulatory agency seal indicating they aren't approved. Furthermore, LegitScript has declared the drugstore rogue. LegitScript gives online pharmacies a rogue status when they conduct thorough investigations and conclude that the internet pharmacy in question doesn't meet the acceptable standards.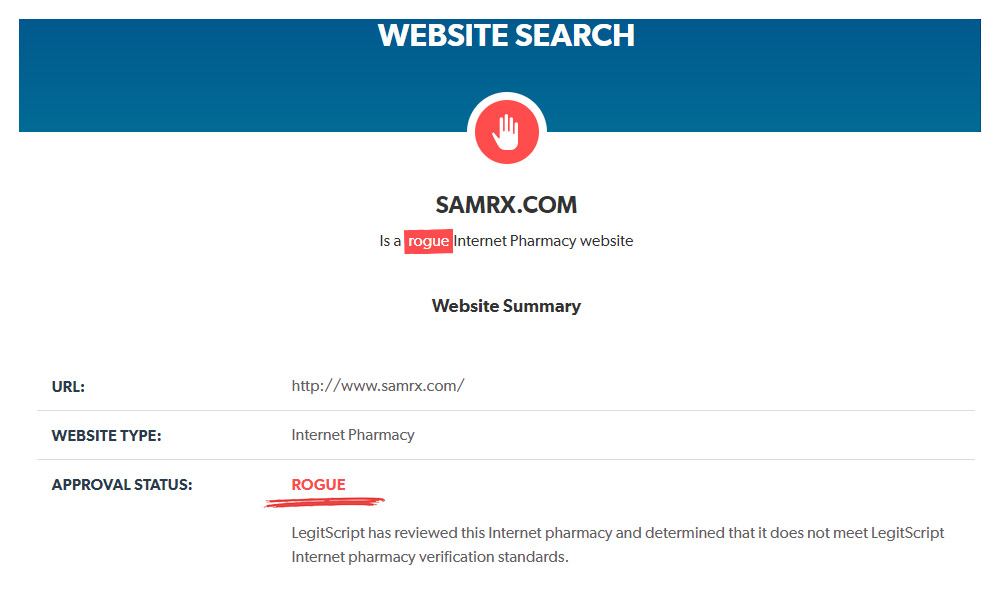 This means that samrx could be selling drugs with questionable quality. However, we can give the pharmacy "props" for being open about selling generic drugs. In fact, the drugstore is marketed as a trusted online pharmacy for generic drugs on the homepage.
Products
There are a variety of drug categories which include; men's sexual health, women's sexual health, hair loss, weight loss, OTC, antibiotics, allergy, pain relief and medication for quitting smoking. The bestsellers are medication for men's and women's sexual health problems which is typical for most rogue online drugstores.
Pricing and Shipping
Samrx targets bulk buyers with irresistible discounts and free pills for both new and repeat customers although repeat customers get better offers. The drugstore even offers free shipping worldwide. Express shipping for purchases above $250, regular shipping for purchases above $100. The drugstore encourages customers to pay via credit card by offering a 10% discount.
Samrx.com Reviews
The drugstore has a special section (resembling a slideshow) where potential customers can read testimonials with ease. The testimonials even have a "certified buyer" label; however, their legitimacy is questionable. There is no way of proving they are written by real buyers. They could be written by anyone really.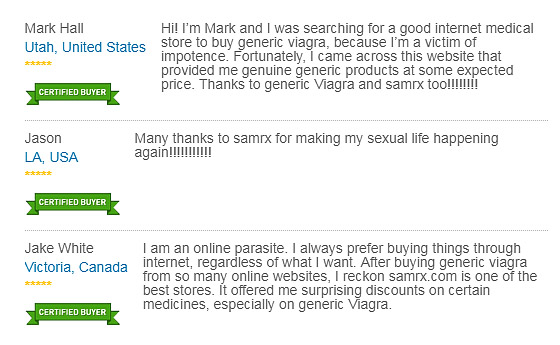 Furthermore, the site has a 2 star out of 5 rating on renowned testimonial site Trustpilot. In fact, the latest testimonial is negative in all aspects including customer support and failed order delivery. Trustpilot collects verifiable testimonials from actual customers; therefore, they can be trusted. We are forced to conclude that the positive testimonials on the site are fake because they can't be verified.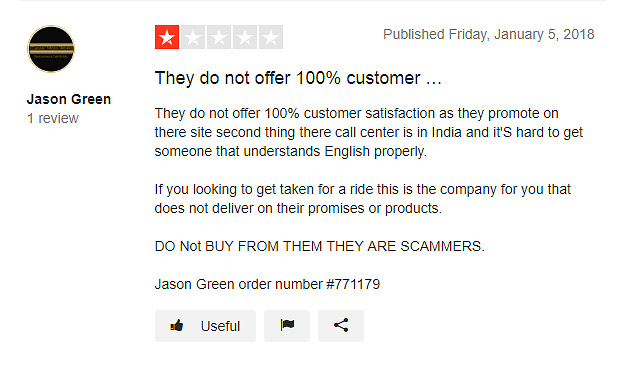 Conclusion
Although samrx is honest about selling generic drugs unlike most rogue online drugstores, this doesn't exonerate the fact that they are rogue. The precise identity of the owners is shrouded in mystery. The domain registrar's real identity is protected by a domain privacy service. The only company linked to samrx is linked to thousands of suspect domains in Asia. What's more; it hasn't met the basic guidelines of internet drugstores. We have enough proof to label the drugstore a scam.
Our rating: 2 out of 5 stars. Buy from samrx at your own risk.
[fblike]
---
POSSIBLE ALTERNATIVES
There are also quite many online pharmacies on the net that have proved themselves to be excellent ones. We keep an eye on them as well. They get into our reviews from time to time, and you can see them on the pages of our site.
We have placed the best online pharmacies into a separate list on the Pharmacy Ratings page. Ratings of online pharmacies that have successfully passed verification and check by our team:
Link>>>