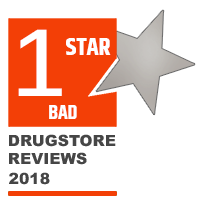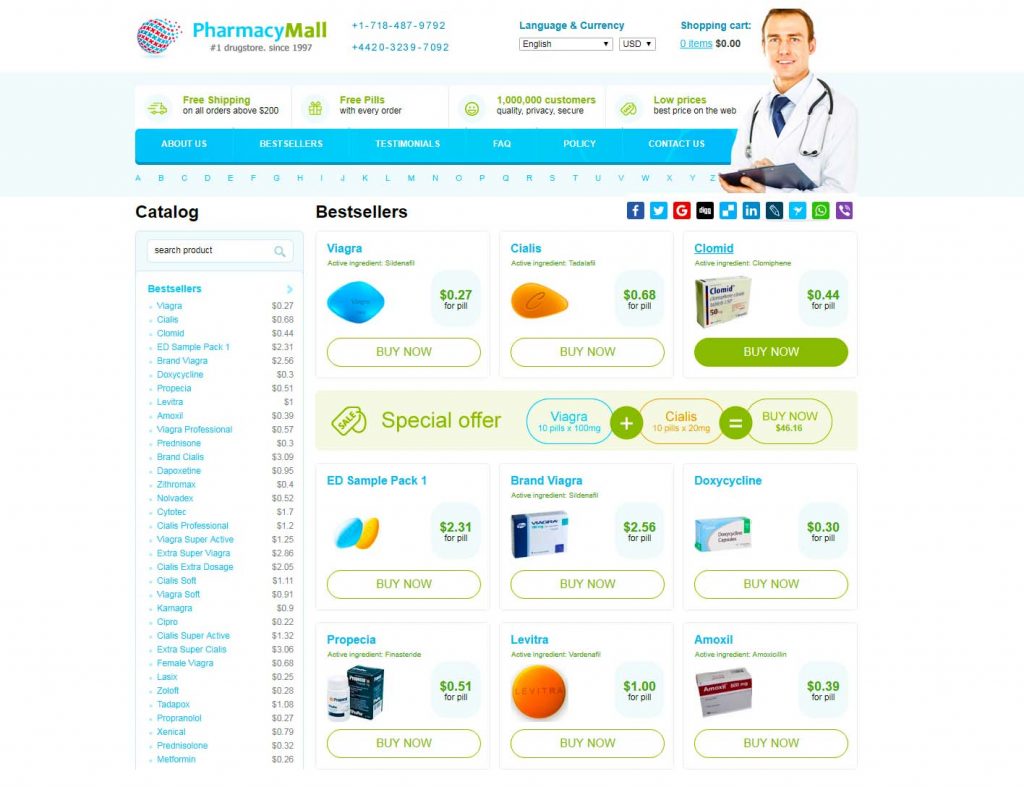 This is a review of a new, quite suspicious online pharmacy – PharmacyMall.org. According to their words, customers get cost-effective prices, reliable shipping and friendly customer support. However, there is another side of the medal. Read on to find out why these websites related to scams and rogue pharmacies.
Domain Info
It is important to emphasize there is also PharmacyMall.net – an established, highly rated online vendor, which successfully competes with big pharmaceutical companies by offering an impressive range of drugs for the lower price. The difference between PharmacyMall.net can easily be spotted by taking a look at the basic domain info.
Pharmacy Mall is a renowned online pharmacy, which started the business in the 90s and started as an online vendor in 2001. The domain PharmacyMall.net was registered in 2003. PharmacyMall.org is something else. It was first registered less than a year ago – 26.01.2018. The first suspicious thing is that the owner of this website is using a special service to mask their identity. It says a lot. Besides, according to some estimations, the website expected life is around a year, which is a short period. Short life expectancy is usually associated with fraud and fake selling.
PharmacyMall.org is not a popular site, and during its full four months of existence, not many internet users showed they are interested in what this site has to offer. Moreover, this site doesn't own any trust records.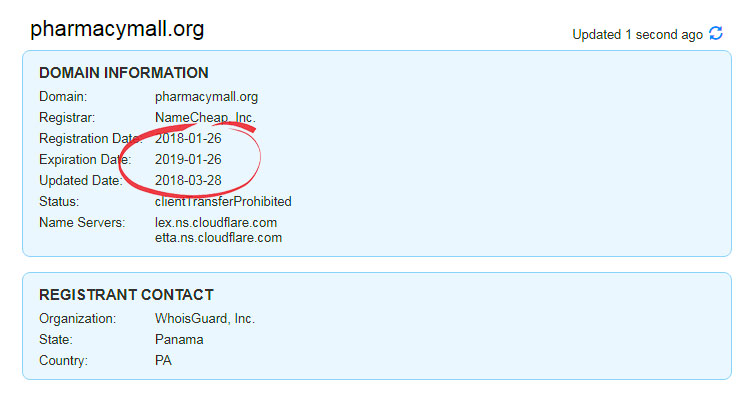 Business Profile
Even though it appears that this website is based in the United States, keep in mind that there are several other countries involved. The most probable website origin is 88% unknown. Furthermore, the name of the owner country is hidden. This should be an alarm for you to think twice before purchasing anything. Also, this is clearly a new business, so it is highly recommended to contact the owners directly.
There is a very big chance that PharmacyMall.org is a rogue.

As mentioned, the site is using an anonymous service, so there is no way to identify the site owner. For the benefit of the doubt, this can simply mean that the owner doesn't want to deal with spam. However, it is far more likely this is not the case.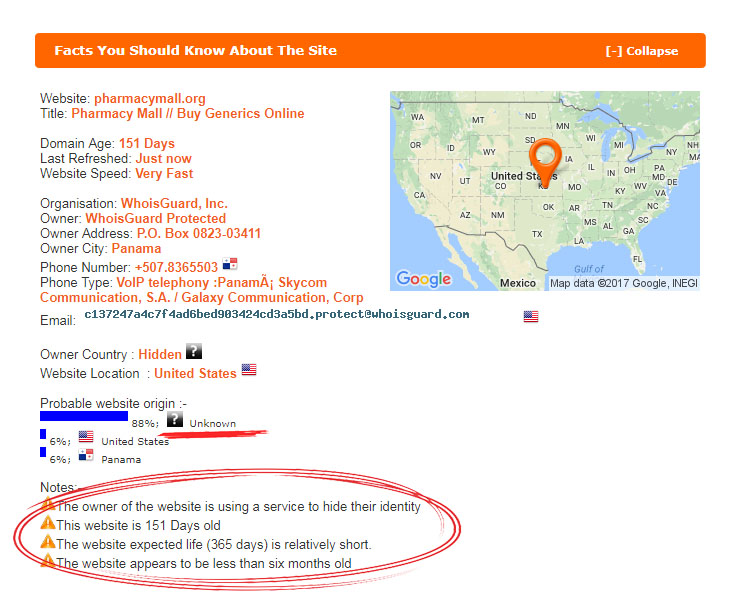 Approvals From Regulatory Agencies
The best way to make sure whether the online pharmacy you are interested in is legit or not, is to check does it own legal approvals from different regulatory entities. After checking CIPA; NABP, LegitScript, etc. you will be assured that PharmacyMall.org hasn't obtained a single legal approval.
ScamAdviser gave this website 57% trust rate.

Available Products
We can't argue with one thing – PharmacyMall.org did a good job of presenting their assortment. They seem to have everything one can think of. They promise that all of their drugs are FDA-approved, but all you can do is trust their word, since there is no official certificate, as opposed to PharmacyMall.net. The main page presents bestsellers, with men's health medications as the most popular with alleged customers.
Pricing
Supposedly, this is the place on the web you need if you want to save money and purchase drugs at the low price. Almost. You can be privileged with these low prices only when you order a drug in greater quantity.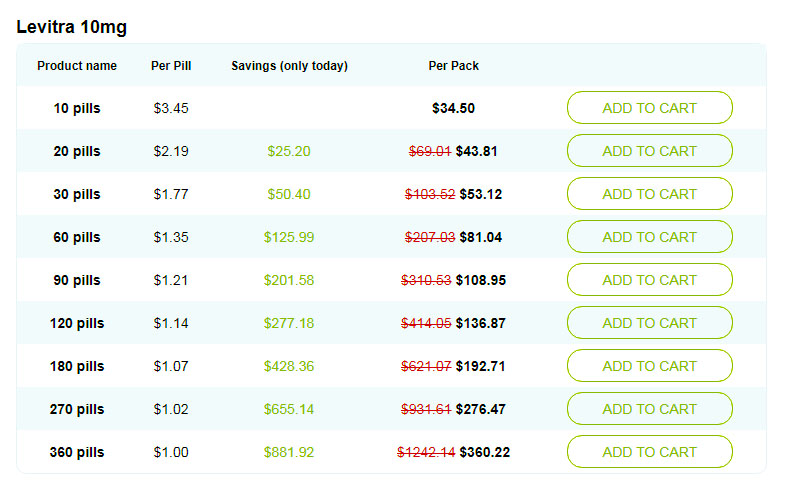 Payment Options and Deliveries
As for the payment options, there are only two – Visa and MasterCard. The payment methods seem quite scarce when compared to other online pharmacies, which allow up to ten different payment options.
Two is also the number of shipping options since it is done via AirMail and EMS.
Conclusion
To sum up – Is PharmacyMall.org trustworthy? The answer is very vague. Although the ScamAdviser awarded PharmacyMall.org with more than 50% trust rating, this new business must be taken with a high dose of skepticism and caution. Besides, if the entire story is legit, why all the secrecy? Serious companies know that customers should be treated with respect, and not deprive them of basic information.
Based on the presented information, we can conclude that this pharmacy, for now, deserves 2 stars out of 5. Either way, keep your eyes and ears wide open and avoid purchasing from unreliable sources.
[fblike]
---
POSSIBLE ALTERNATIVES
There are also quite many online pharmacies on the net that have proved themselves to be excellent ones. We keep an eye on them as well. They get into our reviews from time to time, and you can see them on the pages of our site.
We have placed the best online pharmacies into a separate list on the Pharmacy Ratings page. Ratings of online pharmacies that have successfully passed verification and check by our team:
Link>>>