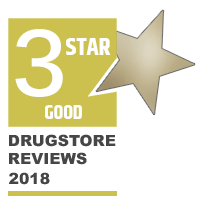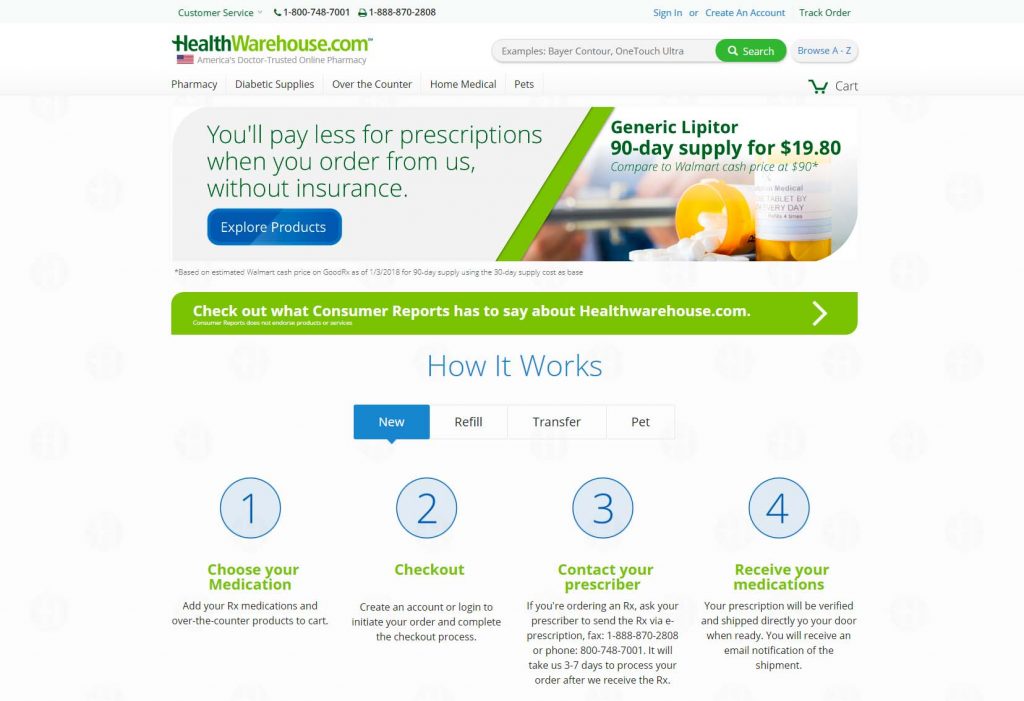 Health warehouse offers a huge range of Rx, generic and brand-name medications, along with reliable shipping and great prices. Is there a downside to this? Find out in our review!
Company Origins And Certification
Health warehouse is a Kentucky-based online pharmacy, with their main headquarters situated in Cincinnati. They are the only online government regulated pharmacy with VIPPs Certification and 10 years of existence, offering a clean sheet reputation to clients and an especially intimidating presence to their competition. Most prominently specialized in selling and shipping Rx prescription medication, it even has its own dedicated team of licensed pharmacists, who are there to consult and inform patients.
When it comes to facts about their business operations, Health warehouse openly and undoubtedly states that they are certified by all needed parties to dispense, sell and ship medication and medical supplies across all 50 states in America, as well as the District of Columbia. As most pharmacies with suspicious intentions will not disclose this kind of information openly, this certainly looks like a good sign.

Business Information
This is a rare example of what good online pharmacies do to build trust with their prospective customers. Straight from the main page, without any need to dig through Google for information, you can expect to find the company's basic contact information.
There is a mailing address, registered under the pharmacy's name, on 7107 Industrial Rd in Kentucky. For more convenience, there is a help center email set up at Info@Healthwarehouse.com, and for those who prefer a more direct approach, the customer service line can be reached at 1-800-748-7001.
Rx orders require a prescription from your doctor and there is a handy form ready to be printed out as needed right on the website, to provide users with the most time-saving path to their orders. You will need to contact your doctor, in order to have them send the prescription over and they can do so via email, fax, or by calling in with the required information. If you already had a prescription sent over earlier, there is a big chance you may not need to go through this procedure again.
In terms of what they offer, it wouldn't be too much to say that the health warehouse has a very broad range of medicine and medical supplies alike. Starting with Rx medication, low-cost generic and brand-name meds, all the way to cosmetics, diabetic supplies and even Rx medicine for pets, there is very little you wouldn't be able to find in their rich assortment.
Official Website
There is nothing of significance to report when it comes to the company's website. It is crisp, clean and offers easy user interface. The website is registered under HealthWarehouse.com, located and operated from Kentucky, US. It all checks out and another good sign is that financial transactions on the website are SSL encrypted, for maximized user protection.
Customers can expect great flexibility when it comes to available payment methods. They are:
Discover
American Express
Visa
Master Cards
E-checks
Money orders
Mailed paper checks
Of course, all users must be registered before they can use any of the services at all.
Shipping and Delivery Methods
Since there is no worldwide shipping, the Health warehouse predominantly relies on USPS\UPS services as their courier choice. Prescription orders typically take up to seven days to get processed, while over-the-counter medication can be processed in a single day. While UPS is known to be an expensive carrier in general, the good news is that customers get a variety of choices when it comes to delivery. UPS Standard Ground shipping is free but will take 2-8 days.
With options like USPS Priority, UPS2-day and UPS Next Day Air, you can expect your delivery time to be knocked back to a single day. All good things come with an extra price, so you can expect these kinds of speedy deliveries to set you back up to $30. A nice little perk can be obtained if a user decides to subscribe to the company's newsletter. By doing this, you can gain access to free delivery.
Keep in mind that there are some exceptions to shipping rules and estimated delivery times, especially when it comes to refrigerated drugs, for example – insulin. In order to guarantee a timely, temperature-controlled delivery, these can only be shipped Monday through Thursday and exclusively through UPS Next Day Air.
Customer Feedback
And so, we've reached the portion of the review where it all goes south. The customer service and the incredible holdups that can delay important prescriptions by weeks are both terrible. It may be due to sheer negligence, it also might be because the company is doing really well and has a very large customer base, but in either case, this should not be an excuse for poor customer service. Successful businesses grow and expand, but if the quality of service doesn't follow, then all attempts of expansion would have been in vain.
Final Verdict
Is the Health Warehouse a scam or legit? If you are still wondering, the answer is simple. No, quite the contrary, this company is probably just about the most straightforward and honest one you can hope to run into. The sad truth is that it is just handling their customers poorly, most probably due to the large, demanding customer-base. Therefore, this review can only award it 3 out of 5 stars, as there is no excuse for delaying important prescriptions that might directly affect someone's quality of life.
[fblike]
---
POSSIBLE ALTERNATIVES
There are also quite many online pharmacies on the net that have proved themselves to be excellent ones. We keep an eye on them as well. They get into our reviews from time to time, and you can see them on the pages of our site.
We have placed the best online pharmacies into a separate list on the Pharmacy Ratings page. Ratings of online pharmacies that have successfully passed verification and check by our team:
Link>>>