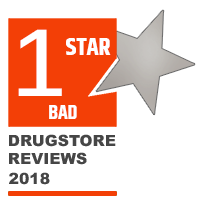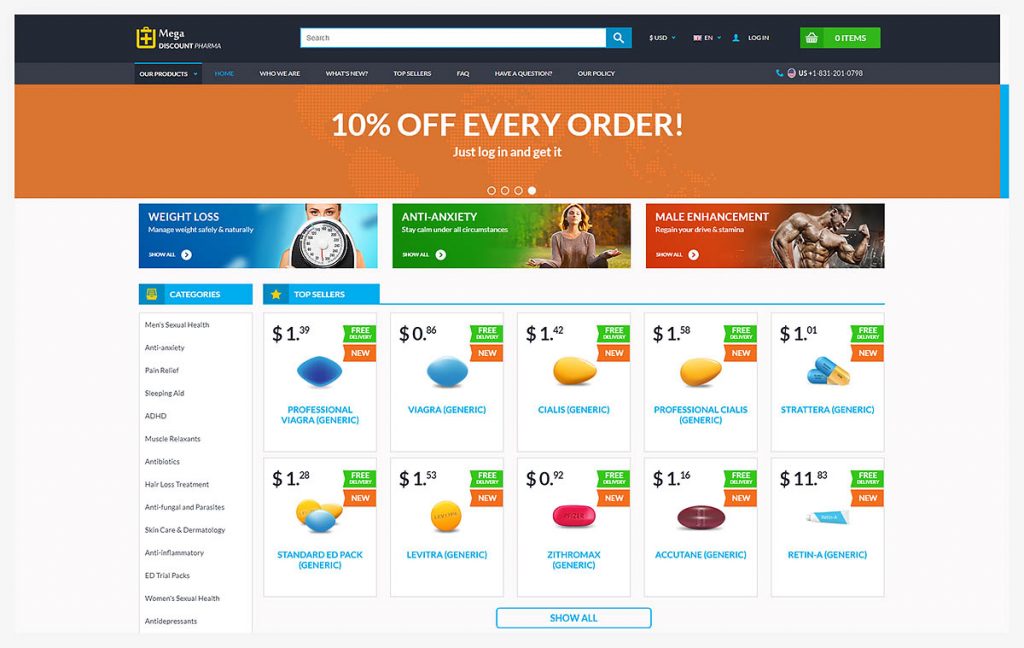 Megadiscountpharma offers a wide range of generic and brand-name medication. With incredibly low prices and free worldwide shipping, it sounds like your new go-to pharmacy! Is this too good to be true? Find out in our review.
Company Origins And Certification
Megadiscountpharma claims to be much more than your average online pharmacy. They act as the middleman between the customer and the chains of medication providers. They have been doing business online for 2 years now. Their main goal is to provide the cheapest possible meds to their customers. When it comes to their means of certification, they don't seem to have any.

There are no certification seals showcased on the website on the company policy page. The lack of certification can often be a warning sign that the company isn't legit. The official website doesn't list the country this company is from. They mainly sell brand name and generic medication. Seeing as they aren't the direct manufacturer of the medication they sell, they are able to offer lower prices.
Business Information
If you want to contact a representative of Megadiscountpharma, there are two ways. You could send them a message through the integrated form on the official website or use the contact number +1-831-201-0798. The area code of the telephone number points to Santa Cruz, California.
This might be where the company is from. Or, at the very least, the place where all of the customer service related calls go to.
The phone number is genuine and no other online pharmacies are using it. There is no official mailing address. This doesn't raise concerns. The medication sold by this company doesn't require a prescription. On the flip side, a licensed professional will be reviewing each order before it can go through.
Official Website
The company website looks decent. Every user must register an account before they can place an order. The registration process is a bit peculiar. Rather than creating your own password, the website will generate one for you. You will receive the randomly generated password to your email address and use it to log in from there on out. The store section of the website is SSL secure.
The accepted payment methods include Visa, MasterCard, and E-checks. Before you can check out and finalize your purchase, you will be prompted to fill out a short medical questionnaire. This lets the doctors in Megadiscountpharma's network see your medical history and decide if your order will gain approval. The doctors can choose to decline your request. If that happens, you won't be able to get the medication you were planning to order. The website appears to have ties with the Netherlands and the Russian Federation. This should be another solid sign of an online pharmacy scam.

The website has a section for affiliates. Anyone looking to promote the products sold here can sign up. You can do this from the built-in registration form on the website. Unfortunately, that section of the website doesn't provide any more details. There are no limitations in regards to how many orders you can place. By registering an account, you become eligible for a 10% discount on your first order. Other than that, it doesn't look like there are any coupon codes available. With the prices being as low as they are, the company didn't feel like adding extra perks.
The website is only two years old. From the looks of it, it doesn't get a lot of visits. While this could be a sign of no popularity or a very small customer base, it could also mean the company is not legit. Although it looks polished and sleek at first glance, some buttons don't respond. Upon refreshing the page, there is a small chance the website will become disheveled. Whoever designed it made the website design a priority and didn't care much for functionality.
Shipping and Delivery Methods
This is one of the finest selling points the company has to offer. There are no shipping fees. No matter where you order from, no matter the amount, the company covers the shipping costs each time. This is definitely something that could attract new customers. The shipping is global and the couriers handling the orders are EMS and the United States Postal Service. Once you check out, the website will display an estimate for your order. All of the estimates are unique and are depending on the location the order is shipping to.
The company doesn't have a return policy. The only thing you can hope for is to either get a refund or request a re-shipment, free of charge. Some of the megadiscountpharma reviews suggest the customers got their orders much sooner than expected.
Megadiscountpharma.com Reviews
For two years spent in business, the company doesn't have a lot to offer when it comes to customer feedback. Most of them are on the company's website and there are no mentions of it otherwise. The official testimonial page is what you could expect from a rogue pharmacy looking to instill trust. All comments are positive. They are praising different aspects of the business, but there seem to be no complaints.
What leads us to believe this pharmacy is a scam is the amount of detail present in the reviews. Apart from the usual name and location, every single client has included a picture of themselves. In today's day and age, you wouldn't expect every customer to snap a quick selfie so they can leave their feedback. Also, the pictures suggest a good quality camera is being used. They show perfect clarity and focus. This is not something you expect every shopper at Megadiscountpharma to own.

Two other megadiscountpharma comments from a different website offer another interesting detail. Apparently, two different people came up with a telephone number, which has nothing to do with the official number on the website.
These two individuals praise the service and urge every customer to contact the number, for the least hassle free experience. Whether these customers are looking to help or hinder the business is unknown. This kind of a discrepancy can only arouse more suspicion.
Final Verdict
So, what's the deal? Should you do any of your online shopping at Megadiscountpharma? Given the very vague details about the company origins, probably not. The prices might seem like a steal, but you should remember that rogue pharmacies often use low prices to attract customers. Seeing as they aren't even certified, to begin with, the quality of the medication you could be buying is in question. For all you know, you might be receiving expired or unsafe medication from this business.
This is not something you should take lightly. And sure, maybe you will have to pay more on another website, but at least the extra price will guarantee your peace of mind. You should definitely avoid doing business with this company because it hasn't proven to be safe enough. Most likely, in another few years, it will close down, revealing some kind of a scamming scheme behind the sudden closure. Due to this, the company receives a 1-star rating. There are plenty of safe online pharmacies to choose from. This isn't one of them.
[fblike]
---
POSSIBLE ALTERNATIVES
There are also quite many online pharmacies on the net that have proved themselves to be excellent ones. We keep an eye on them as well. They get into our reviews from time to time, and you can see them on the pages of our site.
We have placed the best online pharmacies into a separate list on the Pharmacy Ratings page. Ratings of online pharmacies that have successfully passed verification and check by our team:
Link>>>