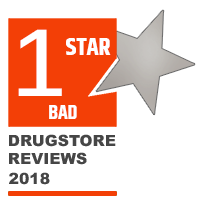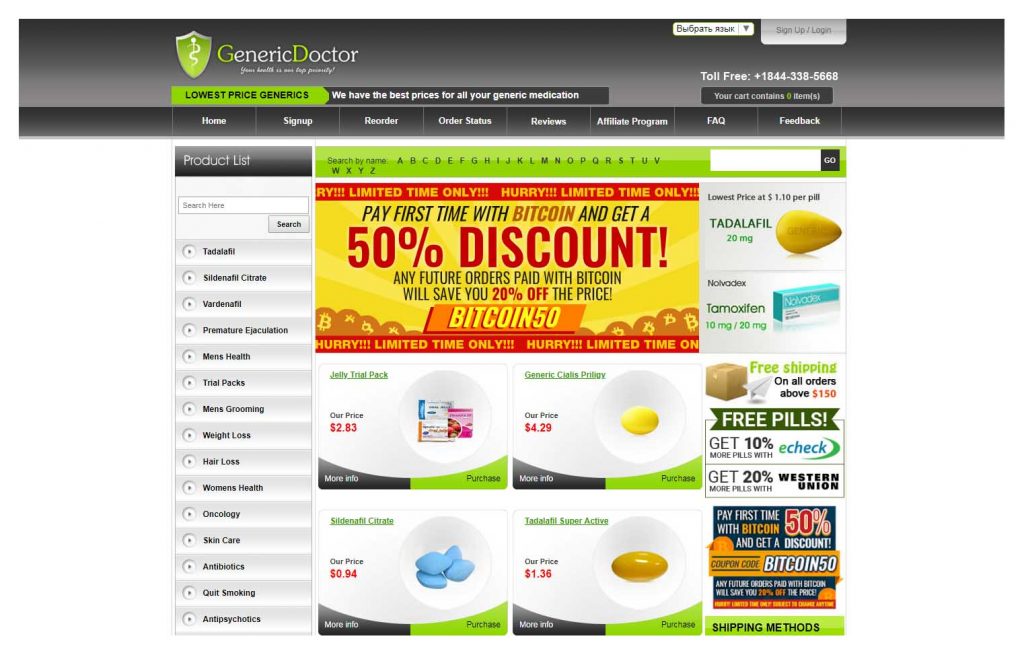 Generic Doctor gives you an opportunity to shop for generic medication at extremely low prices. Fast shipping and easy ordering, all for your convenience. What's the catch? Find out in our review!
Company Origins And Certification
Generic Doctor is an online pharmacy of unknown origin. Their website states they have offices in Asia and are affiliated with a few stores in Canada, but never goes on to say exactly which country the business is from. Predominantly selling generic medication, the company offers insanely low prices the likes of which you've probably never seen in retail pharmacies. They have been in business since 2014, though their website does not indicate they have been certified by any regulatory body organization. Let's not forget that a legit online pharmacy always has certification seals and the license number. This company had neither displayed for viewing.
Business Information
At least the company offers plenty of different ways for customers to contact them. The customers can dial the toll-free number of 1-844-338-5668. In addition, they can also send an email to info@genericdoctor.com. There is also a built-in online chat application on the website. For medications that require prescriptions, users have been provided with a mailing address, as well as an office address.
It is noteworthy to mention that these two addresses are located in two countries, one being Seychelles and the other one Singapore. The company not divulging their country of origin but having alleged offices in two different countries is not a sign of a legit pharmacy.
Official Website
The website is simple and straightforward enough to use by customers. A bit of further research revealed that the website is Canada-based, but is being operated from the Russian Federation. This is a single country that has never been mentioned by the company as an affiliate, which automatically raises more suspicions and brings us to believe the pharmacy may very well be a scam.

All customers are required to register an account before making a purchase. The website or the checkout page don't seem to be SSL encrypted, meaning that your information could be compromised. The website doesn't appear to have a large popularity rating, with very few visits. For a business that has been established four years ago, one would expect a larger customer base and certainly a higher popularity score.
Payment Options
The payment methods offered on the website are a bit contradictory. The classic payment methods include Visa and MasterCard, but not American Express. Other methods include e-cheques and direct bank wire transfers. There is a disclaimer, offering 20% off on your order, if you pay via Western Union, however, another section of the website claims Western Union is not a supported payment method. Take into account also the fact that scamadviser gives 0% trust rating.
Shipping and Delivery Methods
The company is using EMS as their only courier, though a few customer reviews mention USPS, which hasn't been listed as a shipper by the business itself. The company claims to offer free shipping on orders above $150 and has two different shipping methods. There is the standard shipping with the delivery expectancy between 11 and 19 business days. Express shipping offers delivery from 4 to 7 days and free shipping is granted only to orders exceeding $250 in value.
Customer Feedback
The customer feedback is really interesting thing. If the customer testimonials from the website were to be believed, the business would be best described as an elite enterprise with amazing customer service. There is a very large number of overly customer testimonials, some very poorly written. Some of them are even a string of garbled nonsense that doesn't even make sense, let alone resemble a review.
What really proves that the reviews are fake would be the names of the customers. Remember, these are all supposed to be the first and last names of customers that have used the services. With names like Lucille Deville, True Thompson, Marilyn Monroy and Thanos d Great, it's not hard to deduct someone had a field day coming up with what they believe are trust-inspiring names.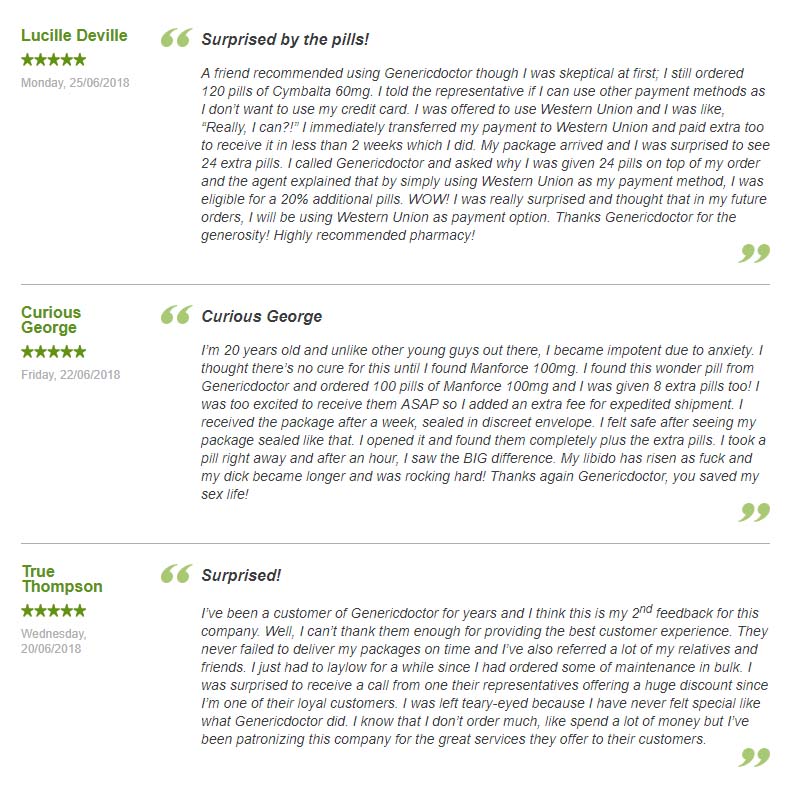 Heading over to other reviews on the Internet, quite a few mention unapproved credit card charges by the company, going as far as to raise several thousand dollars off customer accounts without permission.
Final Verdict
Should you be doing business with this online pharmacy? Absolutely not! With a classic bunch of positive customer feedback, little to no ways to determine which country the company operates from and mentions of fraudulent actions, this would be the least safe online pharmacy to give your money to. No matter how good the price might seem, the risk is too great. Therefore, this company receives a 1-star rating and a stern warning to all potential customers to avoid it.
[fblike]
---
POSSIBLE ALTERNATIVES
There are also quite many online pharmacies on the net that have proved themselves to be excellent ones. We keep an eye on them as well. They get into our reviews from time to time, and you can see them on the pages of our site.
We have placed the best online pharmacies into a separate list on the Pharmacy Ratings page. Ratings of online pharmacies that have successfully passed verification and check by our team:
Link>>>