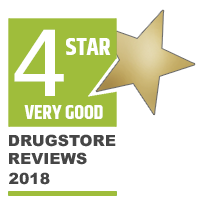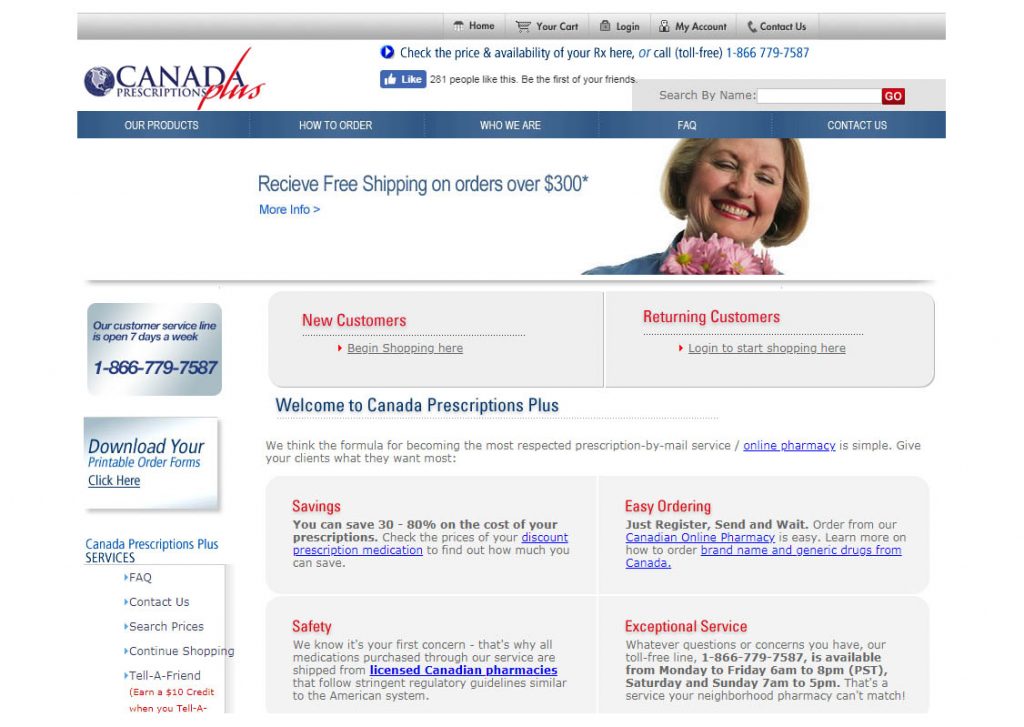 Canada Prescriptions Plus is an online pharmaceutical agency. It connects consumers directly to licensed Canadian pharmacies as well as other approved pharmacies. Canada Prescriptions Plus is dedicated to upholding safety standards of the Canadian pharmaceutical industry, which goes to show that the company is legit. Here is a comprehensive review of the pharmaceutical agent.
About Website
The company is located in Surrey, Canada and has been in operation for more than ten years. Due to the numerous affiliations with licensed pharmacies, the company has a wide access to medical drugs. As such, the company is able to negotiate costs and provide discounts to their clients, overly improving on savings. In addition, the company ensures that medications are shipped safely from the pharmacies to their clients anywhere in the world.
Domain Info
This domain was first registered on July 18th, 2004 and was updated on June 5th, 2018.
The domain's lifespan automatically rules out the possibility of the site being a scam since most are unable to sustain themselves. Further, the agency's openness in providing their contact information for inquiries or complaints only goes to show that the organization is legit.
Business Profile
Canada Prescription Plus are mostly oriented towards sourcing from licensed Canadian pharmacies. Nevertheless, they also dispense medication from pharmacies in different parts of the world as long as the regulatory bodies in those countries have approved them. The acclaimed organization is highly affiliated with pharmacies in countries which follow widely accepted shipping standards similar to American regulations. The partner countries include United States, India, Singapore, Turkey, Canada, United Kingdom and Mauritius.

Security
Nonetheless, according to Scamadviser.com, the site may not as legit as people think. First, it points out that the owner of Canada Prescription Plus is using an anonymous service to hide their identity, questioning the origin of the site. Though the owner may be avoiding spam messages, scam sites also use this service to hide their identity and engage in fraudulent activities.
Secondly, Scamadviser.com points out that the pharmacy is unapproved, indicating a risk of 46% Moreover, the site highlights that the pharmaceutical agent has been highlighted as a threat severally, and this may be associated to malware components. Scamadviser.com advises that though the website appears to be based in Canada, the customer should take it upon themselves to review and verify that information carefully before engaging them. All in, Scamadviser.com posits that the site is safe.
Available Products
Canada prescriptions plus have a wide database of products given their presence in the pharmaceutical industries. All one is required to do is search for the medication you need, indicating the strength and quantity and the system will review your medication and determine how much you should pay, inclusive of the dispensing fee.

Moreover, the acclaimed and legit site has provided a customer service line for customers in case you don't find your medication in the listings. Medical supplies are limited to 3 months, though this does not hold for refills, and their pharmaceutical partners are licensed. However, customers should note that Canada Prescriptions Plus does not dispense sedatives or narcotics and that all sales are final.
Pricing and Shipping
The pricing varies across the three categories in which you can order for a product; first-time customer refills or a returning customer with a new prescription. Orders can be made by fax, mail, phone or online. Still, the price will directly depend on the type, amount of medication required and the licensed suppliers. The shipping charges are the U.S $9.95 per package for orders below $300, destined within North America. However, orders above $300 receive free shipping.

Canada Prescription Plus Reviews
It was very difficult to find any mentions about this website. All we can find is hidden testimonials on CanadaPrescriptionPlus.com. There is no direct link to this section of the site. All reviews are similar and it is a big question if they are real.
Conclusion
Canada Prescriptions Plus is a pharmaceutical agent that connects customers with medication from licensed pharmacies, shipped to where the client wishes. It has been in existence for relatively a long time proving it is legit, as it continues to expand into new territories.
The prices of the products are low since they are given at a discount, which improves on saving. Though Scamadviser.com gives the site a trust score of 46%, it regards the site as safe but advises that customers should be cautious. Based on our findings, we give Canada Prescriptions Plus a rating of 4 out of 5 stars and recommend to try this site.
[fblike]
---
POSSIBLE ALTERNATIVES
There are also quite many online pharmacies on the net that have proved themselves to be excellent ones. We keep an eye on them as well. They get into our reviews from time to time, and you can see them on the pages of our site.
We have placed the best online pharmacies into a separate list on the Pharmacy Ratings page. Ratings of online pharmacies that have successfully passed verification and check by our team:
Link>>>