When you are looking to purchase meds online, price is an important factor, and large savings can be made when avoiding your local drugstore. But there are risks. Counterfeit drugs can be a real risk if you aren't careful about where you order your medication, however. It can be difficult to buy the pills you need if you aren't covered by insurance, so it is understandable that you will look for more cost-effective alternatives. Fake drugs are created to convince people that they are real, so just looking at the packaging won't reveal the truth. The curse of counterfeit medications creates many victims and it is all too easy to fall into the trap set by scammers. We take a look at the problem and the victims it has created.
Size of the Counterfeit Drugs Problem
The real numbers are difficult to assess, with even the World Health Organization unable to put a firm figure on the issue. It is estimated, for example, that some 250,000 children die each year in poor countries when treated with fake meds to cure malaria and pneumonia.
A conservative estimate of the problem, gives a figure of 1 in 10 pharmaceutical products in poor countries being counterfeit. This is very bad for people in poorer countries but it doesn't stop there. No matter where you are located in the world you are not immune from the problem of counterfeit pills.
Shopping at the wrong online pharmacy could lead to you receiving fake meds when you were expecting quality. The drugstore will claim that they are selling the highest quality drugs which are approved by the FDA. What they actually mean is that the type of pills they sell are FDA approved, but this doesn't mean that what they have to sell has been checked by the FDA.
This can lead to you putting your trust in medications that aren't doing what you hope they will do, making your illness worse or creating new health problems for you. This can be extremely serious, with many people every year dying because of counterfeit pills. The number of victims is very difficult to get a good fix on, but with the majority of online pharmacies being scams the problem is huge.
According to the National Association of Boards of Pharmacy, which regulates online pharmacies in the US, as many as 95 percents of online pharmacies are scams.
While it isn't illegal to purchase medications online, people need to take the necessary precautions so that they avoid the pills which could kill them.
Fentanyl Overdoses
One of the many ways in which people can fall into problems with pills purchased online is through Fentanyl poisoning. Many counterfeit pain medications will contain Fentanyl when they are supposed to have different ingredients.
The problem of opioid use in the USA is well documented. Big pharmaceutical companies keen to boost sales, worked hard to convince the medical community that there was a very low risk of addiction to prescription opioids. This lead to a massive increase in their use and a massive problem a few years down the line.
Opioids were far more addictive than the medical community was led to believe and the consequences on patients was severe. For example, some 47,000 Americans died from an opioid overdose in 2017. It was estimated that nearly 30 percent of patients who were prescribed opioids for chronic pain would end up misusing the meds, though the real figure could be much higher.
What is Fentanyl?
This massive problem has handed an opportunity to scam artists through the use of the synthetic opioid Fentanyl. It is far cheaper and easier to produce this synthetic drug and so it is used as a substitute to the more expensive ingredients.
Fentanyl is more potent, requiring only a small amount of the powder to produce similar effects found in other opioids. This makes it far easier to overdose on the drug. If the counterfeit drug manufacturer puts too much of the powder into your pain meds, and it doesn't require much, then you can all too easily overdose.
Victims of Fentanyl Laced Counterfeit Pills
In 2015, Blain Padgett earned a college football scholarship with Rice University. The rigors of the sport led to a shoulder injury which was causing him pain, he took what he believed was a hydrocodone pill to ease his suffering. It was, in fact, counterfeit and contained a version of Fentanyl called Carfentanil. He was found dead in March 2018 due to an unintended overdose.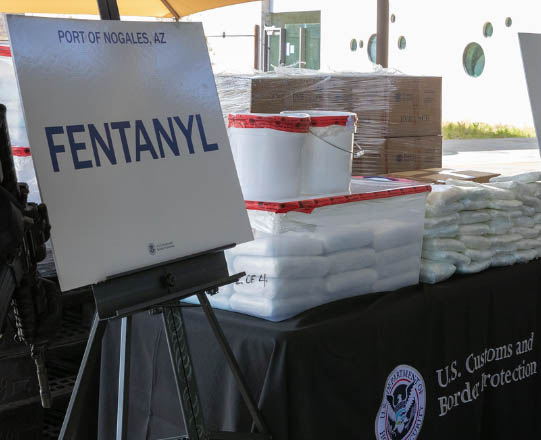 It isn't only in pain meds where Fentanyl can be found, however. It can be used as a cheap way to produce results in a variety of other medications as well, but the real effects can be just as devastating.
Eric Highsmith Griffin had been prescribed Xanax for anxiety issues. He purchased some cheap Xanax pills but couldn't possibly have known that they were counterfeit. They weren't the safe and reliable pills he was used to taking, instead, they contained Fentanyl, and he paid for this mistake with his life. He died in May 2016, after taking what should have been a non-opioid drug, but instead contained the synthetic opioid.
Tosh Ackerman was just looking to get some help sleeping. He took some pills including Benedryl and Xanax to get to sleep. The pills were counterfeit, containing Fentanyl. He was found dead in the morning by his girlfriend, another victim of counterfeit drugs laced with high levels of Fentanyl.
Less Effective Counterfeit Treatments
It isn't only counterfeit pills that contain dangerous ingredients that you need to be on your guard with. The dangers of the fake pills also come when they don't contain the correct amount of active ingredients you were expecting. This can lead to some of the effects expected still happening but will mean you don't recover as expected.
If this problem isn't discovered early, and why would it, your illness can advance and the repercussions of this can be extreme. This is a problem that will frequently go unnoticed and is likely to be far more widespread than anyone realizes. Since the pills often won't obviously be fake, the patient won't realize there is an issue with the cheaper pills they have purchased online.
Counterfeit Cancer Drugs
Things are bad enough when you have been diagnosed with cancer, fake medications can add to your problems and not treat your illness. Drug prices are often too expensive if you don't have insurance to cover you, it is easy to purchase pills online which seem to be legit and are cheaper than those otherwise available to you. This could be a big mistake as it has been for others, however.
Lung cancer patient Betty Hunter was taking counterfeit Avastin pills dying as a consequence of this mistake. She could have lived longer or been cured if the meds she was taking had produced the results expected of them.
Cancer sufferer Maxine Blount was taking Procrit pills to treat anemia to counter her other treatments. It was discovered by oncology nurses that the pills contained only 5 percent of the active ingredient they should have. This issue led to a delay in her chemotherapy allowing her condition to worsen and cancer to advance. She died as a result of this error.
Fake Flu Meds
Marcia Bergeron purchased prescription flu medication online. Unfortunately, she was purchasing pills from scammers online and what appeared to be genuine medication was counterfeit. The pills contained large amounts of heavy metals and she was poisoned as a result. She had been in good health previously and this all too easy mistake took her life.
Conclusion
These are just some of the cases which have been well documented, many other deaths will go undiagnosed as a result of counterfeit drugs. This is understandable as often the pills that the patient is taking isn't considered by the medical examiner, it is instead just assumed that the treatment didn't work and the patient was just unlucky. The real cost of counterfeit pills could be far greater than anyone currently fears.
Counter drugs can come in all varieties and the consequences can be fatal for anyone unfortunate enough to receive them from a pharmacy. It is almost impossible to tell if the drugs you have purchased from an unreputable drugstore are counterfeit or genuine. The fake pills will be designed to convince you they are real and safe but the truth could be very much different.
The only way to really be sure that the pills you have bought from an unreliable site is to have them tested. This is an expensive process and will take some time, so it isn't going to be an option most of the time.
We have tried to highlight why you need to be very wary when purchasing drugs online, as the risks can be very real and permanent. While you are just trying to save some money, the costs to your health sometimes can't be undone.