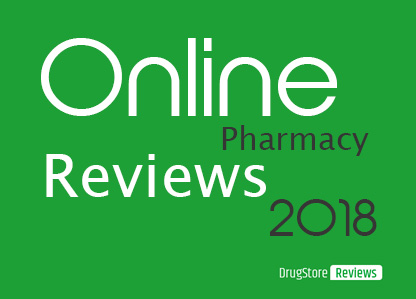 Using online pharmacies can be a cost-effective way to safely get the medication you need. That is as long as you shop at a legitimate online pharmacy and not a website that is out to sell you fake medicine that will risk your health and even your life.
Unfortunately, scammers have found the online drugs market to be a very lucrative business. It has been estimated by the FDA that as many as 97% of online pharmacies are, in fact, unsafe and illegitimate. This may seem like an overestimation, but it is indicative of the problem facing consumers that want to get a better deal on their medicine.
In our Online Pharmacy Review 2018, we reveal the methods you can use to avoid the scam online pharmacies which put your health at risk.
---
Products
Generic and Brand Meds
Online pharmacies normally offer both generic and brand-name drugs, with generic versions providing big cost savings over the better-known alternatives. Generic versions should be safe when purchased through a reliable source. Unfortunately, many online drugstores cannot be considered reliable, with all too many being out and out scams.
It is common to find generic and brand versions purposefully confused, with well know brands appearing to be for sale on a site that states they only sell generic drugs. These cases, in particular, suggest your likelihood of receiving counterfeit drugs is extremely high.
Counterfeit Drugs
The problem of counterfeit drugs is a rapidly growing one, with the authorities confiscating more and more fake drugs each year, with 2019 set to break records.
The reason more drugs are being counterfeited is a simple one. It's easy. Criminals produce fake products to make money, a fake Gucci bag requires some craftsmanship to make it good enough to fool people. Counterfeit drugs, on the other hand, are relatively simple to fake and the profit margin is huge.
Fake drugs are rather more dangerous than a fake bag, however. People are dying because of the trade in fake medication and all types of medicine are affected.
| Therapeutic class | Frequency | Percent |
| --- | --- | --- |
| Anti-infectives | 370 | 20,5 |
| Genitourinary | 265 | 14,7 |
| Cardiovascular | 203 | 11,2 |
| Central nervous system | 204 | 11,3 |
| Alimentary | 169 | 9,3 |
| Musculoskeletal | 139 | 7,7 |
| Metabolism | 142 | 7,9 |
| Respiratory | 65 | 3,6 |
| Other (unclassified) | 64 | 3,6 |
| Cytostatics | 59 | 3,3 |
| Hormones | 35 | 1,9 |
| Dermatological | 33 | 1,8 |
| Blood agents | 37 | 2,0 |
| Sensory organs | 8 | 0,4 |
| Parasitology | 4 | 0,2 |
| Not reported | 3 | 0,1 |
| Hospetal solutions | 2 | 0,1 |
| Total | 1,802 | 100,0 |
This list comes from a scientific study from a few years ago into counterfeit medicine. The second category on the list is Genitourinary which includes men's sexual health pills. This type of treatment is easily the most popular bestseller found on scam online pharmacies, so it follows that they are probably now the most faked medicines too. We expect this increase to be even more obvious when we write our Online Pharmacy Review 2019, so if you are looking for these type of drugs online you need to pay special attention now and in the future.
Meds Origin
The origin of the medication is important too if you want to avoid a life-threatening mistake. China, India and Turkey are three of the most popular locations for the manufacture of counterfeit drugs. India and Turkey are very frequently linked to online pharmacies of a dubious nature, though it can be extremely difficult to find firm information on this type of site.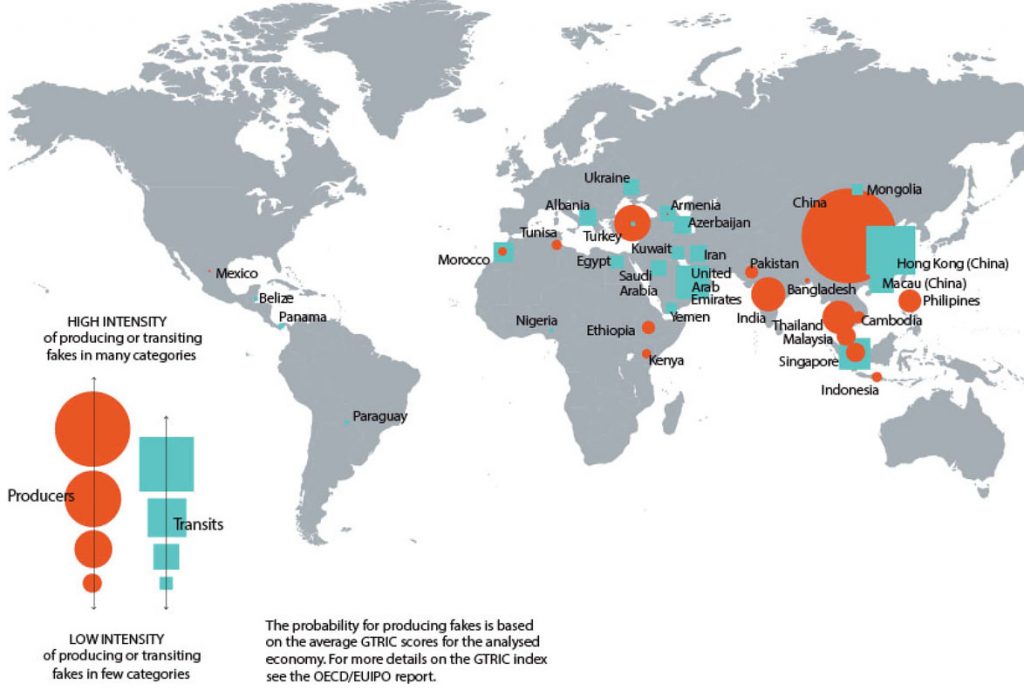 Though fake pills may appear to look real, it is only during scientific testing that the dangers really become apparent. Counterfeit drugs are highly likely to contain the wrong amounts of active ingredients if you are lucky. If you are less fortunate you could find no active ingredients in pills you need to treat a serious health issue or even poisonous chemicals in your drugs.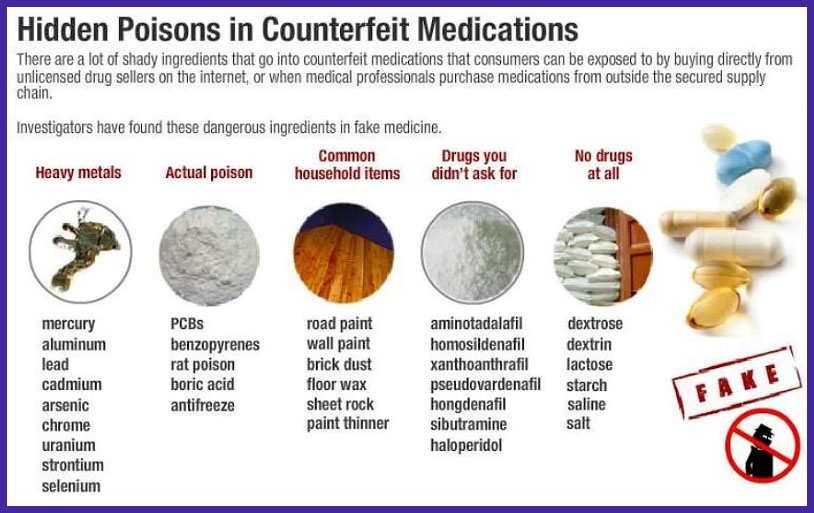 Perhaps, after watching this video you will choose online pharmacies more carefully.
If you want to learn more about the dangers of counterfeit drugs in the US, read this PDF:
http://www.safemedicines.org/wp-content/uploads/PSM_FP2_footnotes_secure-1.pdf
or
Main Tools
Whois
The domain name records of every website on the Internet are available to view online. If you want to know more about a website, you can find more information by doing what is known as a 'whois' search on a domain registrar's site.

The records can reveal some interesting facts about the website you are interested in. It will tell you when the address was registered and how long the registration has to run. The minimum period you can register a domain name for is a single year. A legitimate business will register the site beyond 2019 as it is an asset and they expect to be around for a long time.
It is very common for scam online pharmacies to only register for a single year. The reason they do this is that they often register multiple domains and upload the same or similar online store, to each address they own. Then they will allow the domain names to expire when they don't get enough visitors to make them profitable or if the authorities step in to stop them.
The domain record will also provide contact details for the people or organization that runs the site. You get information on the registrant, the administrator and the technical contact, though these are often the same information. It is common practice for the people running scam drugstores to hide their details to keep them out of the records. When a domain name is registered it is possible to choose to keep contact details out of the public records for an additional fee. Legitimate businesses tend not to do this as they aren't trying to hide from their customers.
Scam drugstores sometimes use fake names and addresses to make themselves seem more reliable. Legitimate sounding names can look impressive, but a check with the relevant Government database normally shows this to be a fraudulent attempt to deceive.
Scam Adviser
ScamAdviser.com is a website which allows people to check up on a business before making a purchase. It lets you know of many issues which could see you putting your credit card details at risk of fraud. Scam Adviser checks over 1.1 million sites per day and they have almost 2 million scam sites on record, many of these are online pharmacies.
Factors like the age of the domain, location and server details are used to provide you with a basic assessment of the site and whether it is safe to use.

They also show you the details of the where the website is hosted and what other sites are found on that same server. Often with scam online pharmacies, you will find many of the same types of site on the same server. ScamAdviser.com tells you if the related sites are suspicious too.
Sometimes these related sites are actually a mirror image of each other. Multiple different domain names will point towards identical websites. These mirror sites use generic logos which might say something like 'TrustPharmacy' or 'Canadian Pharmacy' to try to convince you that this is a legitimate website.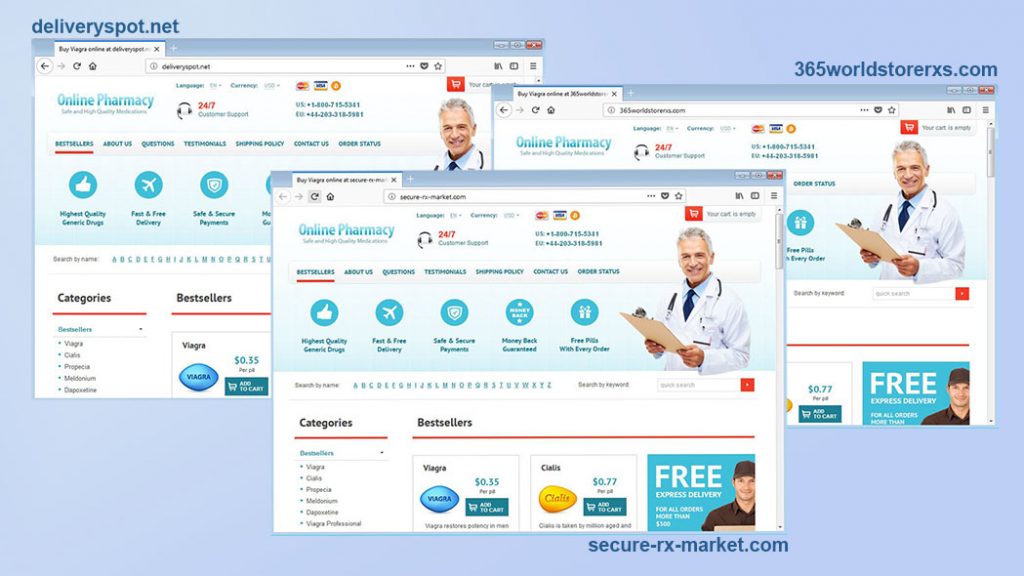 Website Security
When you are looking to make a purchase on a new store, you should always take a glance to the address box on your browser window to make sure there is a locked padlock next to the name. This signifies that the site is using a secure connection and has a valid security certificate.
SSL (secure socket layer) as it is known is something many unreliable sites ignore as it costs them additional money to provide. However, your information could be at risk if you trust a site which doesn't have security. Entering your private data on insecure websites is a sure fire way to get yourself into trouble online.
Other reassuring features to look for are logos from Norton or McAfee to show a higher regard for your data protection.
Legal and Regulatory Approvals
European Pharmacies
Laws and regulatory accreditation exist to keep consumers safe when shopping for medicine online. The rules and legislation vary dependent on where the pharmacy operates from and where they sell drugs to.
If the online pharmacy is based in a European country they should abide by the EU distance selling regulations for medicine. If they are not conforming with these EU rules, they are operating outside of the law. It is easy to check if a European site is operating legally. It is a requirement that the common European distance selling logo is displayed on every page where medicine for human consumption is offered.
The logo should allow you to click through to a Government agency site which has a database of legal European online pharmacies. Alternatively, you can go directly to the agency site, for example, MHRA – medicine-seller-register.mhra.gov.uk.
Canadian Pharmacies
Many online pharmacies claim to be operated from Canada. Canadian online pharmacies aren't regulated in the same way as European sites are, instead some consumer protection is provided by the membership to regulatory associations. This system doesn't offer legal protection for consumers but does mean that there is a Canadian based real-world pharmacy involved with the site. They also make sure that the online drugstore has rules and policies in place to professionally and safely deal with shoppers financial and personal data.
CIPA and Pharmacy Checker
The two main Canadian regulatory associations are CIPA and PharmacyChecker.com, there are also several regional associations too. You will normally find seals from these associations on drugstores which have valid memberships. You should be able to click on these seals to check that they are correct or you can go directly to the association sites.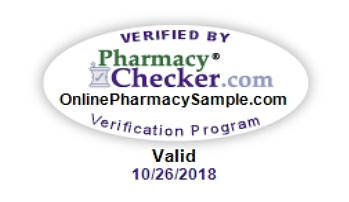 In 2018 we have discovered many scam online pharmacies which are using logos from CIPA and Pharmacy Checker to try to deceive and make themselves out to be more trustworthy than they really are. If you see a logo, click on it to check if it goes to the association site and that it gives you details of the membership.
In the US, online pharmacies are regulated by state boards and you can check if a pharmacy is correctly licensed by going to the National Association of Boards of Pharmacy website – nabp.pharmacy.
VIPPS
Look out for the VIPPS seal when visiting a US-based pharmacy site. The VIPPS accreditation process involves an on-site visit to check that the pharmacy meets the criteria for this program as well as federal and local state law. Personnel is interviewed and records checked to make sure the pharmacy is up to requirements.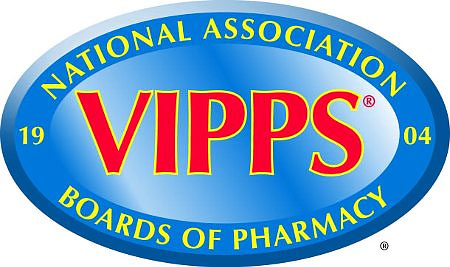 These are the main countries that online pharmacies normally claim to operate from and as you can see the rules differ between jurisdictions. Many pharmacies might claim to operate from one of the regions outlined above when in reality they are dispatching drugs from India or another country which has no legal requirement for online pharmacies.
LegitScript
LegitScript.com is another place to check how trustworthy a pill seller really is. They review and classify drugstores making sure they conform to the law where they are operating from.

Customer Reviews
When you visit a new online drugstore, one way in which you find out if the site is really trustworthy is to see what other customers think about the site. Other people's experiences with a retailer enable you to make better buying decisions and help you avoid unreliable companies. Naturally, when you find lots of good customer feedback it will make you more likely to make a purchase using the website.
In marketing, it is well known that customer testimonials are a means to increase the likelihood of achieving a sale. Often you will find customer reviews on the pharmacy site itself because the owners know full well that this will give them more sales.
Website Testimonials
Whilst many scam online pharmacies have testimonial pages packed full of praise for the company and the drugs on offer, this clearly isn't the best way to get an independent view. For one, the reviews you find on pharmacy sites will frequently be fake, normally written by the same person using similar phrases and punctuation. We have seen examples of testimonies which seem to come from people in countries where English is the first language, but the reviews read like they have gone through some translation software. Sometimes the fake reviews are obvious because of these reasons, but other times they can be harder to spot.
Reviews which seem like they have gone through translation software.
Fake customer reviews are often used repeatedly on hundreds of other websites. We have found many examples of this, with searches using part of one of the fake customer reviews turning up many thousands of times. If the reviews were genuine this wouldn't happen.
Even when the reviews on the pharmacy store seem to be real, this still isn't a perfect situation. Invariably the reviews you will find on the company's own site will, of course, only be positive. After all, why would a business post unfavorable reviews on their own site? They wouldn't, and this is where third-party review sites come in.
Third-Party Reviews
Now, of course, third party review sites aren't immune to fake reviews. We have certainly found reviews on third party sites which have the appearance of being faked. Accounts which are created just for the purpose of writing one positive review and then never used again could be an indication of this. If most of the reviews are found to be like this then you should be concerned.
Fake reviews found on Trustpilot look like it.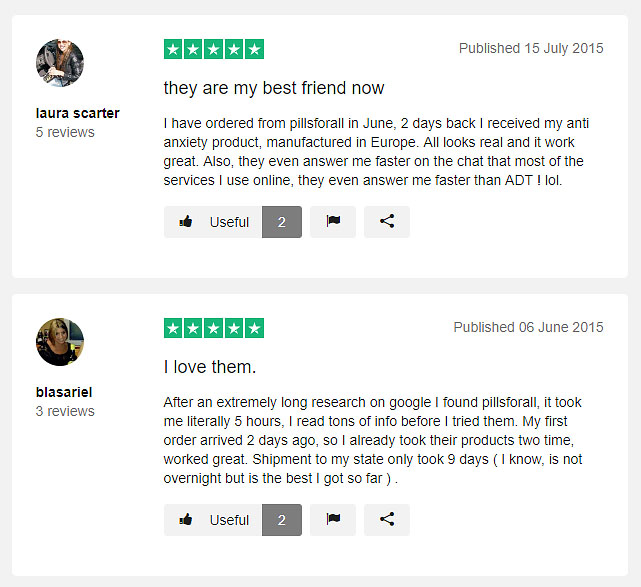 Third-party customer review sites to check, include Trustpilot.com, Reddit, PharmacyChecker.com and MyWOT.com. Most of the reviews will be genuine on these sites, but it is always possible that there will be fake reviews among them.
Conclusion
As we have hopefully shown, fraudulent pharmacy sites are a big problem and one that is set to increase. Will we find the problem has been addressed sufficiently by Governments around the world in our Online Pharmacy Review 2019? It seems unlikely, so if you are looking to save money on your medical needs please take our advice and do some research or check out our reviews. Don't make the mistake of taking a risk with your health through ignorance.